Elite® Garage Door, Repair & Installation Services In Woodhaven, MI
Garage Doors are designed to be highly durable.  On average a garage door that's well maintained can have a service life of up to fifty years. Unfortunately, homeowners don't always do an excellent job of maintaining their garage doors.  Some even overlook necessary maintenance which reduces its life and may cause it to suddenly break down.  If your garage door breaks down for whatever reason, you can call our Garage Door Repair in Woodhaven MI.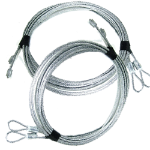 A Service that's Guaranteed to Offer the Best Deal – Elite Garage Door
Garage Door Garage Door Maintenance and Repair
Many home and business owners know just how frustrating it can be when a garage door stops working for whatever reason.  Most people who call us have no idea why the garage door has stopped working.  However, generally speaking, there is a myriad of reasons why a garage door will either not open or close.  The only way to know for sure is to examine the door and troubleshoot the problem personally.
When you call our garage door repair in Woodhaven, MI we come fully prepared to fix any problem.  Our team arrives at your doorstep in the shortest time possible or at a time that is convenient for you.  They will then work to find the problem and fix it right away.  If parts have to be replaced we often have those parts and will replace them too.  So, there is little to no downtime when you hire us.

A Service that's Guaranteed to Offer the Best Deal
When you generally hire a Garage Door Repair Service do they back the service with a warranty? How do you know that they will repair the garage door so that you don't have to bother about it again? Well with us you can be sure that the problem we fix will not bother you again.  We guarantee that back providing our clients with an iron-clad 90-day workmanship warranty.
The warranty is to assure clients that they have hired professionals who know what they are doing.  Plus, it gives them the peace of mind that they don't have to spend money again if the problem we fixed resurfaces within 90 days.

Professional Garage Door Installation
Apart from garage door repair in Woodhaven, MI we also provide installation services.  We install all types of garage doors professionally so that you don't have to worry about them failing because of incorrect installation.  We can also help to recommend the right kind of garage door depending on your home's architecture and security requirements.
If you are in need of professional garage door repair, then look no further than us!