Garage Door Off Track Repair Specialists
One of the most common problems with many garage doors is that they tend to go off track.  The good news is that if your garage door is light and you have a bit of experience, it is possible to fix it yourself.  However, it is always a good idea to call professionals like Elite Garage Door. The reason perhaps to call a Door Off Track Repair professional is to fix the problem permanently, after all, there has to be a reason why your garage door goes off track every second day.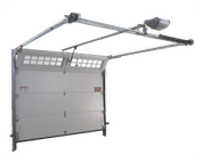 We Gonna Make Sure That Your Garage Door Off Track Repair Is Performed Using Only The Highest Quality Parts!
Always Be Cautious
Your garage door is a machine, and like all machines, it is powerful and has the potential to cause personal harm. If you do attempt to put the garage door back on its track, you need to make sure that there are no pets, kids or anyone else nearby until the door is back on track.
You also want to avoid forcing the door back on track or kicking it into place because that will only damage it.  Plus, if you end up damaging the door, it will leave your home vulnerable. So, you always want to start out with a good set of the right tools and an understanding of how garage doors work. Though many times if there is a problem with the spring too or the rails both of which will require professional help.
Professional Off Track Repair with a Warranty
One of the questions we get asked a lot is what the difference between our off-track repair and one that they do themselves is?  Well, the answer is that our repairs are comprehensive.  We will diagnose the problem and find the reason for the door being unhinged and fix that issue.  So, you'll not face this problem again.  Plus, we are so confident of the professional service that we back it with a warranty.  Plus, we back all the parts we use to repair your garage door with a guarantee giving you the peace of mind that the door will last a long time.
No Garage Door Too Difficult
Some Garage Door Repair Specialists may refuse to repair the latest garage doors.  The common reasoning behind this and which they don't tell clients is that they don't have the technology to perform the repairs.  The latest garage doors are a solid investment for anyone who wants to be sure that their doors are 100% secure.  Many of the high-end doors use sensors and other technologies to keep your home and the car parked inside safe.  But when they fail, they require an equally high-tech approach to repairs.
Our off track repair professionals care about your time and property.  They will work as fast as possible to diagnose and fix the problem.  Plus, the parts replaced will always be with new ones, and those will be under warranty.  If you feel as though you've already put the garage door back on track many times yourself it is time to call us for a permanent solution.
Call Elite Garage Door today at (313) 335-3509, and we will fix all problems, today!
Schedule Your Off Track Service Now!