Elite® Garage Door, Repair & Installation Services In Melvindale, MI
The first thing people see when they visit a home is the garage door. It is in one of the most prominently visible locations making it hard not to notice.  That's why a high-quality garage door adds to the aesthetics of a home but only if it compliments the architecture.  Though apart from aesthetics there is also functionality which requires maintenance.  The more high-tech your garage door is, the more frequent professional maintenance it will need.  That's where our specialist Garage Door Repair In Melvindale MI can help you.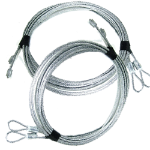 You Can Call Our Emergency Garage Door Repair Service
Leading Garage Door Installation and Repair Experts
We are a leading Garage Door Installation and Repair Experts in Melvindale.  Our year of experience in the industry ensures that we can help to fix any problem in the shortest time possible.  We also offer regular maintenance services to ensure that your high-tech garage door continues to function flawlessly.  Routine maintenance is especially necessary if you're a business owner that depends on the garage door working flawlessly for years.
What Do We That Others Don't?
We have an entirely different approach to garage door repair in Melvindale.  For starters, we never visit your home or place of business to fix the garage door.  While that is the purpose of our visit, the goal is to make sure that you are not bothered by this problem again.  For us to ensure that you're not bothered by the problem we troubleshoot the cause of the issue and fix that.  Once the cause of the problem is removed you can be assured of long service life. The other thing that sets our service apart from others is the fact that we offer a warranty.  Our warranty backs the parts we use as well as our workmanship.  It also assures home and business owners of trouble-free service for a long time.  A 90-day workmanship warranty in addition to a guarantee for the replacement parts by their respective brands will help you save time, frustration and money.

When to Call our Emergency Garage Door Repair Service?
You can call our emergency garage door repair service at any time.  It can be in the middle of the night or early morning. You can call us in a situation where either the garage door is not opening or isn't closing amongst other issues.  We know that garage doors can fail and when they do it can leave your home vulnerable.  Our service is meant to ensure that your garage door is fixed and that you don't have to worry about the house or place of business being left vulnerable.

Our team also cares a great deal about your time which is why we work swiftly to resolve any and all problems.  We also have the fastest response time in the garage door repair industry.  Also, we dispatch a team so regardless of the problem it is fixed in the shortest time.
If you would like to hire our garage door repair in Melvindale, MI call us right away!