Elite® Garage Door, Repair & Installation Services In Westland, MI
Our garage doors play a massive part in our lives.  They keep our homes safe and our vehicles protected from the elements.  However, like all things mechanical they require regular maintenance.  Often parts need to be replaced before complete failure catches you off guard.  That said the best way to ensure that your garage door continues to work flawlessly is to hire Garage Door Repair Westland MI.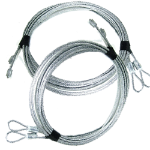 Elite Garage Door – Quick and Easy Garage Door Spring Repair
Garage Door Repair and Installation
At Elite Garage Door Repair and Installation, we are a full-service specialist business.  Our garage door related services include maintenance, repair, and installation of new garage doors.  We also offer emergency garage door repair services which require that our specialists reach your home at any time in the shortest time possible.  However, above all, we are one of the most reputed repair services in Westland, MI.
Quick and Easy Garage Door Spring Repair
Our garage door repair in Westland MI includes spring repair and replacement.  One of the most common problems with garage doors is that their springs will break or will not have as much elasticity as it should.  The result of this is that the garage door will start sticking. In some extreme cases if the sticking situation isn't resolved it can become worse, and the door can get stuck.  The garage door can get stuck in either the open or closed position.  That makes it impossible to drive out or in with your vehicle. It can also leave your home vulnerable.
We offer a quick and easy garage door repair service in Westland which is just one call away.  Our professionals will fix and replace any spring related issues.  Plus, they will try to see if the garage door has some other problems which may impede its function in the near future.  At times some parts will need to be changed to ensure that you have years of trouble-free service life.  If you approve, we will replace those parts with ones that are backed by a warranty.  As professionals, we only use aftermarket replacement parts that are of high quality and trusted.

Workmanship with a Warranty
When is the last time you hired a garage door repair company that backed their service with a warranty?  It is almost unheard of for a garage door repair service in Westland, MI to support their services with a guarantee but we do.  At Elite Garage Door Repair & Installation we back our workmanship with a 90-day warranty.  The warranty ensures that our clients are 100% satisfied with the services we provide.  If they are unsatisfied for whatever reason, they can call us back.  Though we have never been recalled by a client to fix the same problem again.

A Service You Can Trust
Elite Garage Door Services is a business that you can trust because we want to make you happy.  As one of the leading services in Westland, MI we use the latest equipment and have a team who does not waste any time and fixes whatever issues you are facing.  So, if your garage door is spoilt then call us today.