Professional Garage Door Cables – Repair & Replacement Services
All garage doors are driven via a series of cables.  High-quality doors use thick and durable cables which are capable of lasting for years.  However, even these cables can wear out, and when they do, it is essential to replace them right away.
Our Garage Door Cables – Repair & Replacement Services will repair and replace all types of cables regardless of size and type. Plus we will fix just about any garage door by using the highest quality parts and excellent workmanship that's guaranteed to last a very long time.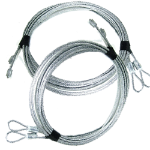 Get Your Garage Door Professionally Inspected
Elite Garage Door Has Been Providing Professional Garage Door Inspection For Over A Decade
The benefit of getting your garage door professionally inspected at least annually is that it helps us diagnose and fix potential problems before they become a bother to you and your family. I ssues relating to broken belts, worn out cogs and other mechanical problems can quickly be diagnosed and fixed which saves you a great deal of time and frustration.
As part of our inspection, we will also provide you with information as to if the garage door needs replacing.  Also, if repairs are required we will give you a list and once approved can start working on those repairs right away.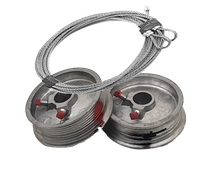 Garage Door Cables – Repair & Replacement That Saves You Time
Repairing and Replacing Garage Door Cables is a tough job and takes a lot of time.  Also, depending on the make and model of your garage door finding the right replacement parts can be a challenge.  However, we save you time and frustration by coming fully prepared. We also come ready for issues you may not notice.
ready for issues you may not notice.  Our team of professionals will start working on your garage door right away.  Plus, we will keep you informed if there is another problem detected and what measures will be taken to rectify it.  Our goal is to ensure that you are 100% satisfied with the outcome and for that, we go the extra mile to make sure that the work we do is the best in the business.
Don't Let a Broken Cable Get in Your Way
A broken garage door belt or one that is not working correctly can make it near impossible for you to drive out.  Many people find out about a broken belt when it is too late, and at that point, they have the option of waiting to get it fixed or head out to work and have it fixed in the evening.  Our goal is to help ensure that you never have to deal with a broken belt or a stuck garage door.
When you hire our professional Garage Door Cables – Repair & Replacement services, we use the highest quality parts that money can buy. All parts used are backed by a warranty. Plus we also support our workmanship with a guarantee. So, you can be sure that you'll not face another problem again for a very long time.
Call Elite Garage Door Today At (313) 335-3509
Schedule Your Cables Replacement Service Now!