Elite® Garage Door, Repair & Installation Services In Taylor, MI
Garage doors like everything else in our lives have evolved a great deal over the decades.  Once manually operated garage doors have now been taken over by fully automated doors with sensors and other security features.  As a matter of fact, it is far more common to see an automated garage door than the old-fashion manually operated the garage door.  Though if not adequately maintained all garage doors fail and when that happens you need to call Professional Garage Door Repair Taylor MI.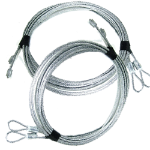 Elite Garage Door Completes Every Job
What to Consider When Hiring Garage Door Repair in Taylor, MI?
Garage Door Services are not cheap, as a matter of fact, some services can cost a few hundred dollars on average.  The more professional and experienced service is in the area the more you can expect to pay them. However, experience and what they charge shouldn't be your only consideration.  There are many other factors that you need to consider.  We will examine a couple of important factors below.
Do They Offer a Warranty?
Does the service offer you any sort of surety that what they fix will not fail the next day or a week later? It is all too common for low-quality garage door repair services to charge a lot of money but offer little in return.  Ideally, you will want to choose a repair and installation service that backs their service with a guarantee.

What Kind of After Market Parts are Used?
Let's face it most garage doors fail because something has stopped working.  It can be the tension spring, a fuse or some other component which needs to be replaced.  However, if it is replaced with a low-quality part, it only ends up doing more harm than good.  If anything, that same part will need to be replaced a few months later.  Ideally, the aftermarket part should be by a well-known brand and backed by a warranty.  If there is no warranty, then the part can't be trusted, and your investment is wasted if it fails a few months later.

Why Hire Elite Garage Door Repair & Installation?
We are one of the most experienced and reputed garage door repair specialists in Michigan.  Our professionals have been serving the Taylor area for a very long time and over the years have earned a reputation for offering a high-quality service that's cost effective and friendly.  However, our reputation is not the only reason why you should hire our services.
For starters we back all the work we do for you with a 90-day labor warranty.  The warranty covers every problem we fix. If the problem resurfaces within 90 days, our pros will fix it right away at no extra cost.  The other reason to hire us is that we help you save money in the long-term by only using quality parts. All aftermarket replacement parts used are backed by a warranty. So, if they fail, you can get a replacement part.
Finally, the one reason why everyone hires and trusts us is that we love providing an excellent service. We are also just a call away!