Professional Garage Door Spring Repair Services With a Warranty
Garage door springs have a reasonably high failure rate which is why we recommend that oiling and greasing be part of your regular garage door maintenance schedule.  However, when the spring does fail, and many times it does even if it well maintained then its time to call Elite Garage Door.  Our garage door spring repair specialists will be on site within a couple of minutes with everything to fix the problem.

Garage Door Spring Repair and Replacement is Our Specialty
Top Service By Our Elite Experts!
Broken and rusty garage door springs are hard to replace but also happen to be a common issue.   it is an issue that can leave your car trapped.  When you call us our team of professionals we will be at your doorstep in no time to diagnose the problem.  They then get down to working and fixing the issue which should be complete in an hour.
We will arrive at your home with all the springs and necessary equipment to fix the problem. We have springs of all types for all garage doors regardless of make and model.  Also, instead of using low-quality replacement springs we always use the best quality torsion springs.  We also lubricate and service your garage door and back it with a labor warranty.  Now you can be assured of years of service life.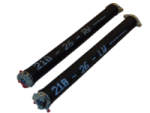 Don't Attempt a DIY
One of the most common mistakes you can make as a homeowner is attempting a DIY Garage Door Spring Replacement.  While some videos online will outline how the process works it is still hazardous.  The garage door mechanism is pretty powerful, and the spring is what holds everything together.  When you attempt to remove or replace the spring it will and at times does cause personal injury not to mention damage to the door itself.
Elite Garage Door strongly advises that homeowners always call professionals.  As a professional service, we have the right equipment and a team of certified garage door repair people.  Each person on our team has hundreds of hours' worth of experience.  So, they are in the best possible position to change the garage door without causing any personal or property damage.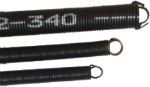 A Well-Priced Service You Can Trust
Our Garage Door Spring Repair Service is competitively priced compared to many other specialist services.  What's more is the fact that we are one of the few professional services that back our work and the parts we use with a warranty.  Every spring we install is of the best quality and comes backed by a warranty.  So, you can trust that these things will last and save you money in the long term.  We also have experience working with the latest garage doors. So, whether you have an old garage door system or the most recent installed, we are still the right people for the job!
Call Elite Garage Door today at (313) 335-3509, and we will fix all problems with your garage door today!
Schedule You Service Now!